Get emergency assistance with food, rent, utilities, and other basic needs





Gala Homepage (1920 × 600 px)

Volunteer Slider

TFC Slider

Food Pantries Slider

Collage Slider

YOU ARE INVITED

Enjoy an evening of cocktails and great food, socializing with friends among games and a silent auction, and dancing the rest of the night away! Our 2022 Annual Gala is back and better than ever. Join us December 3rd at the Willow Creek Event Center to help raise funds for our services in Livingston County. We hope to see you there! Click on the image above to purchase your tickets today before their gone!
---

As Thanksgiving and Christmas approach, we are planning our meal sign-ups and donation drives. See below for our current programs and keep checking back here for updates!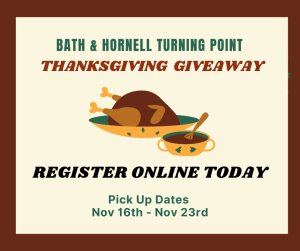 STEUBEN COUNTY ONLY:  Now taking sign ups for our Thanksgiving Baskets! Includes turkey and sides. To register, click on the orange box above and fill out our Assistance Request Form.  Turkeys can be picked up in Bath on the pick up dates at 23 Liberty St, Bath - and Hornell (9AM-4PM) by appointment.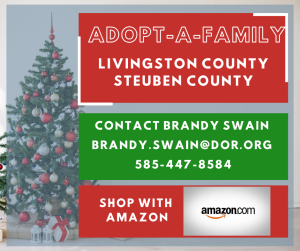 Would you like to help a family in your community? We need individuals, businesses, churches and organizations to adopt families this Christmas! Contact Brandy and then shop and ship items from our Amazon wish lists and we will get them to families in need.
Livingston County: https://a.co/hTGGe0x
Hornell Turning Point: https://a.co/fqEB3wj
Bath Turning Point: https://a.co/1ObxSUV
---
WE ARE HIRING!
If you're looking for an opportunity to express and explore your passion for helping others, then join a team that truly makes a difference DAILY, in people's lives. We are looking for empathetic, thoughtful candidates who have enthusiasm for helping people. We have supportive leadership who invest in our people and provide opportunities for employees to thrive, grow and learn. Don't miss out on being a part of something special! We have several full and part-time job openings in both Livingston and Steuben Counties. Click this link to see ALL our opportunities at CCSL.